12 days of NOT discounting – Headset Webinar
Nov 10, 2022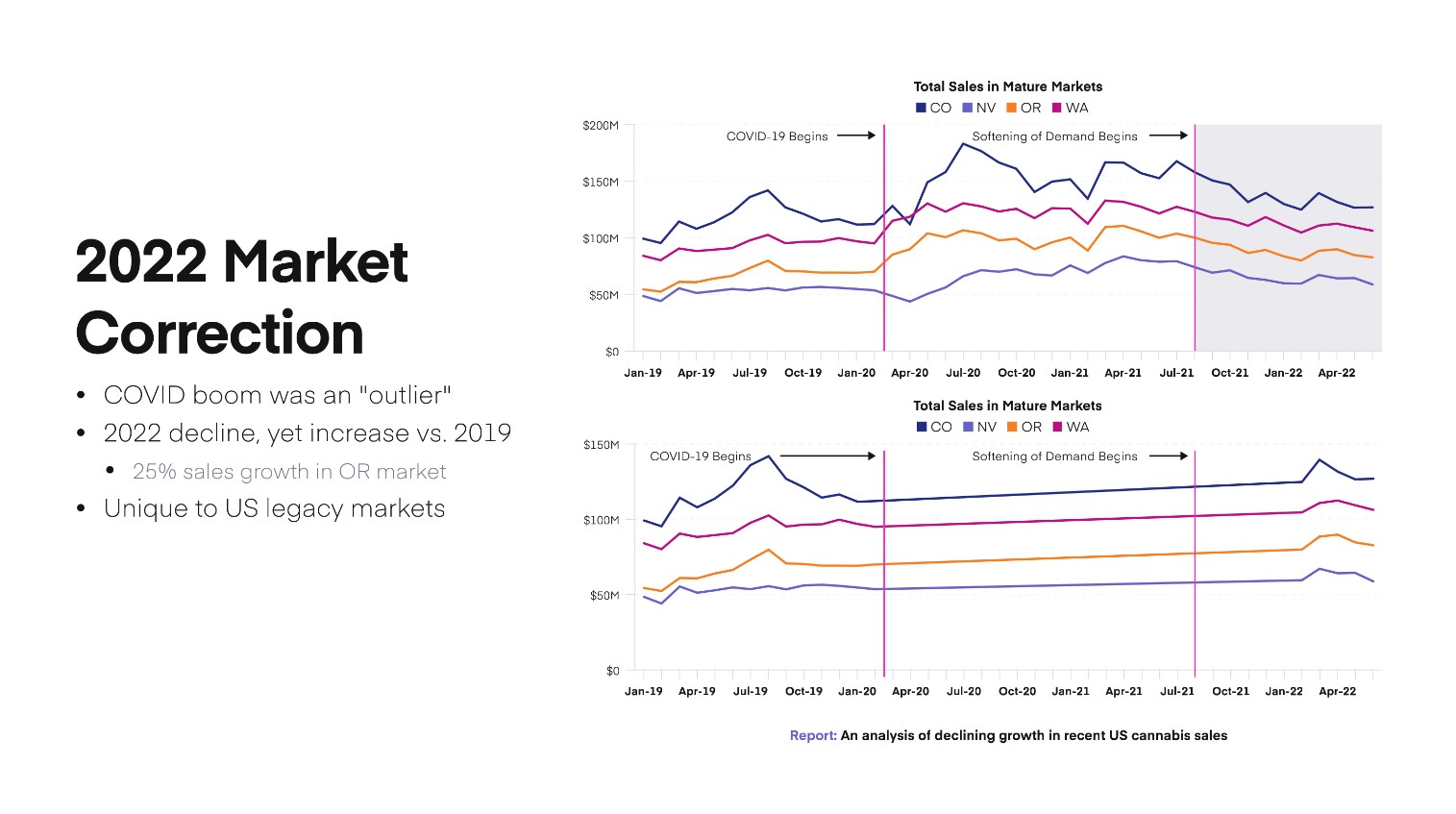 If you weren't able to join us last Wednesday for Headset's "12 Days of not Discounting", with Joe Cullen, Headset's Product Specialist and Headset Bridge expert, we wanted to share a little round-up.
There were a few topics that really stood out in relation to seasonal discounting:
Pricing Compression Continues to Plague Cannabis Retail
2022 is a Market Correction Year
Excess Supply vs Demand is Causing Prices to Drop
Upcoming Holidays are Major Revenue Drivers
Don't Confuse Discounts with Promotions
Measure the Lift of Your Promotions
Bundling Can Improve Perceived Value – If You're Careful
Don't Overstock on Seasonal SKUs
Be Intentional with Promotions
There was a lot of beneficial information to take in on each of these topics, but let's dive into some of the most important elements we covered around these topics.
1.)
Pricing Compression Continues to Plague Cannabis Retail
We've seen a lot of retailers competing over prices, which has led to worsening pricing compression within cannabis retail.
With sales trending downwards on an individual store level, it's vital that we find ways to combat pricing compression, especially when we're thinking about creating discounts or promotions for retail stores.
2.) 2022 is a Market Correction Year
While sales in 2022 were still higher than those in 2019, we're seeing a cooling from the cannabis retail boom of 2020/2021 brought on by the pandemic.
Also, most of the growth we are seeing in the overall sales figures is tied directly to the volume of new store openings. Most individual store growth figures are actually negative.
3.) Excess Supply is Causing Prices to Drop
Lower sales, as well as the market correction this year, have led to an excess of supply. One of the consequences of this is the overall price per gram (EQ price) for flower has dropped by 32% since January 2021 in Canada, Colorado, Michigan, and California.
To match last year's sales targets, you will need substantially more product velocity to make up for smaller margins.
4.) Upcoming Holidays are Major Revenue Drivers
In Canada, Black Friday and Boxing Day are the biggest sales days. In the US, Thanksgiving takes that title. And yet, these days also experience the highest levels of discounting by retailers.
Creating strategic promotions that don't focus solely on slashing prices will be key for allowing growth and profitability this holiday season.
5.) Don't Confuse Discounts with Promotions
Discounts are reductions in price, which are used to target a specific category of people (i.e., 20% off military discount). Promotions are created to drive additional product velocity, which creates an opportunity to increase those valuable gross margin dollars.
BONUS TIP: Storewide discounting can be challenging for controlling margin loss, and it can reduce the value customers perceive in all your products. It can also lead to stockpiling.
6.) Measure the Lift of Your Promotions
Start by measuring your baseline of products you'll be promoting by tracking sales in the weeks leading up to a sale. Then, monitor how much sales increase during the promotion to determine your promotional lift.
By tracking the lift of your promotions, you can determine whether the increased product velocity justifies the margin loss or if you need to reconsider your promotional strategy.
7.) Bundling Can Improve Perceived Value – If You're Careful
Rather than offering a discount (i.e., $2 off a pre-roll), you can bundle products in ways that protect your gross margin (i.e., combining two pre-rolls for a single price that results in less than $2).
It's vital if you're going to bundle products that you keep the intended and unintended consequences of these promotions in mind, as well as monitor where these types of promotions could cannibalize other products.
8.) Don't Overstock on Seasonal SKUs
Seasonal products are amazing because they can create a sense of diversity and 'newness' within retail stores, but once the holiday is over, they become irrelevant quickly.
Analyze how much product you believe you'll go through each day and how long you want it in store, and use that data to guide ordering.
This will help minimize excess inventory after the holiday ends.
Also, avoid SKU duplication. Provide only one option to service seasonal customers for each type of product assortment. This will help reduce slow-moving SKUs and keep your holiday SKU countdown
9.) Be Intentional with Promotions
Always set goals before starting seasonal promotions and monitor your promotional efficacy.
Take time to talk to customers during this season. Ask your loyal customers where they find value, and use that information to create more effective, targeted seasonal promotions that won't leave you sitting on leftover inventory.
Most importantly, a great promotion takes time to support appropriately. This is why the '12 days of Promotions' tactic is probably not as effective as it could be. Instead, focus on promotions for longer than one day.
This will give a wider range of customers access to the Promotion and allow you to create numerous touchpoints (seven is the magic number) for these promotions, which will help drive conversions.
In Conclusion
We covered a lot of different topics relating to seasonal promotions. Still, if there was one last point we could leave you with that's vital for your retail store's success this holiday season, make a promotional calendar.
A promotional calendar will give you a much more holistic view of all your promotional plans this holiday season, which makes it easier to identify and address some of the unintended consequences these promotions can cause, such as product cannibalism.
As long as each promotion is created and managed intentionally, with both intended and unintended consequences in mind, cannabis retailers can increase their revenue this holiday season, without losing an excess to avoidable margin cuts.
Want to learn more from Vetrina?
We're creating our signature course to turn you into a cannabis industry expert. Retail Foundations Course, Cannabis is coming soon. Leave your info below and we'll let you know when it's live!
We hate SPAM. We will never sell your information, for any reason.